LBJ 's Civil Rights Legacy: The Missing Links
Written by JupiterIslandGirl Thursday, 17 December 2009 07:37
Yes, Lyndon Baines Johnson signed the Civil Rights Act but please know and understand, he was pushed by the will and fortitude of the people to get it done. He was pushed by the ghost of slaves and generations and generations of people who refused to give up. The meme of LBJ getting Civil Rights passed by being tough and twisting arms is only a small part of the narrative.
I walked away from Daily Kos shortly after the California Proposition 8 vote. I decided I needed a break after I read a rant describing the long, hours and personal money that had been spent in order to GOTV for Barack Obama. A few more rants later and the commenter called Black voters in California the derogatory, "n" word. I'm not easily offended by words. I decided years ago, the only person who will define me, will be me. However, I was offended by what I felt was a denial of understanding. An understanding as to why the word so easily slipped through the poster's subconscious. We all have our dark sides and until we learn to acknowledge it, what we deny, will grow stronger but for now, that will have to be a discussion for another time. I didn't stick around that day to see how events eventually unfolded. I do not know when or how people finally moved on. I'd like to believe apologies were made, and emotional wounds and hurt feelings were healed.
Several months passed before I clicked on Kos again but even then, I was only a lurker from time to time. I have finally returned to Kos on what I consider a part time, permanent bases. Shortly after my return I was called, ignorant, an Obamabot, a troll (the person has since apologized for the troll remark and thank you again for that) and a few other names I've chosen to delete from my memory. I came back because of the Health Care fight. This time, I've stayed through the name calling, insults and vitriol because none of it amounts to a quarter of the abuse my ancestors and many of your ancestors went through to fight for their inalienable rights, and the inalienable rights of others.
Back in the day, (to borrow urban slang) and around the time of the First Constitutional Convention in 1778, Blacks, or African Americans if you prefer, were labeled "others" and deemed three-fifths of a person. There was a laundry list of things three-fifths of a person could not have, as well as things they were not allowed to do. The right to vote was on that list although, I think it's safe to say voting wasn't uppermost in the minds of anyone considered, three-fifths of a person.  Around the start of the First Constitutional Convention, 18% of the U.S. population were slaves. I included that fact only because I found the number interesting since African Americans today, are an estimated 13% of the total population.
Sometimes I get the feeling many believe it's all fine and dandy in my (Black) world because some dude from Texas, who liked to pick dogs up by the ears, "twisted arms" and threatened legislators to sign a Civil Rights Bill. There is more to the story. From the first slave rebellion to today's fight for Universal Health Care, my rights and your rights are forever linked. If my ancestors and your ancestors had walked away from their fight because they could not get everything they wanted, if they had not bowed at times, stood tall and firm at times, if they had not taken crumbs to get their foot in the door, or if most had been too principled to accept compromises, it's plausible, (and a smidgen of hyperbole)I would still be seen as three-fifths of a person. I would be three-fifths of a person without health insurance and a pre existing condition, but still less than a whole person. Yes, Lyndon Baines Johnson signed the Civil Rights Act but please know and understand, he was pushed by the will and fortitude of the people to get it done. He was pushed by the ghost of slaves and generations and generations of people who refused to give up. The meme of LBJ getting Civil Rights passed by being tough and twisting arms is only a small part of the narrative. The struggle did not begin or end with LBJ and he was not alone in the fight. I believe it's time, to rediscover the missing links.
Slave Rebellions and Uprisings in the U.S.
One of the most distressing and violent aspects of American history was the institution of slavery. For over two hundred years, Africans were brought against their will to Britain's American colonies and to the new United States of America. One historian (Herbert Aptheker), calculated that over two hundred separate slave revolts and conspiracies took place from the 1600's to the end of the U.S. Civil War in 1865.
Gloucester County, Virginia--Sept. 1663--This was the first major conspiracy for a possible slave rebellion. The plot by black slaves and white indentured servants was betrayed to the authorities. Several plotters were beheaded.

New York City Slave Rebellion--1712--25 slaves armed with guns and clubs burned down houses on the northern edge of New York City and killed nine whites. The rebels were killed after soldiers arrived. The repercussions of this rebellion resulted in the tortuous execution of 18 participants in the rebellion.

Cato's Conspiracy/Stono Rebellion--1739--Approximately 80 slaves armed themselves and attempted to march toward Spanish Florida from their home area of Stono, South Carolina. When confronted by a group of white militia, a battle ensued. Forty-four blacks and twenty-one whites perished.

 
Civil Rights Timeline
Milestones in the modern civil rights movement
July 26, 1948
Truman signs Executive Order 9981, which states, "It is hereby declared to be the policy of the President that there shall be equality of treatment and opportunity for all persons in the armed services without regard to race, color, religion, or national origin."

Aug. 1955
Fourteen-year-old Chicagoan Emmett Till is visiting family in Mississippi when he is kidnapped, brutally beaten, shot, and dumped in the Tallahatchie River for allegedly whistling at a white woman. Two white men, J. W. Milam and Roy Bryant, are arrested for the murder and acquitted by an all-white jury. They later boast about committing the murder in a Look magazine interview. The case becomes a cause célèbre of the civil rights movement.

Dec. 1, 1955
Rosa Parks (Montgomery, Ala.) NAACP member Rosa Parks refuses to give up her seat at the front of the "colored section" of a bus to a white passenger, defying a southern custom of the time. In response to her arrest the Montgomery black community launches a bus boycott, which will last for more than a year, until the buses are desegregated Dec. 21, 1956. As newly elected president of the Montgomery Improvement Association (MIA), Reverend Martin Luther King, Jr., is instrumental in leading the boycott.

 
A visit with LBJ
I stopped by to see President Johnson about voting rights. The President was concerned about voting, but he said Martin, I can't get this through in this session of Congress. We can't get a voting rights bill, he said because there are two or three other things that I feel that we've got to get through and they're going to benefit negroes as much as anything. One was the education bill and something else. And then he went on to say that if I push a voting rights bill now, I'll lose the support of seven congressmen that I sorely need for the particular things that I had and we just can't get it. Well, I went on to say to the President that I felt that we had to do something about it and two weeks later we started a movement in Selma, Alabama. We started dramatizing the issue of the denial of the right to vote and I submit to you that three months later as a result of that Selma movement, the same President who said to me that we could not get a voting rights bill in that session of Congress was on the television singing through a speaking voice "we shall overcome" and calling for the passage of a voting rights bill and I could go on and on to show. . .and we did get a voting rights bill in that session of Congress. Now, I could go on to give many other examples to show that it just doesn't come about without pressure and this is what we plan to do in Washington. We aren't planning to close down Washington, we aren't planning to close down Congress. This isn't anywhere in our plans. We are planning to dramatize the issue to the point that poor people in this nation will have to be seen and will not be invisible.

 
Selma to Montgomery
On Sunday, March 21, about 3,200 marchers set out for Montgomery, walking 12 miles a day and sleeping in fields. By the time they reached the capitol on Thursday, March 25, they were 25,000-strong. Less than five months after the last of the three marches, President Lyndon Johnson signed the Voting Rights Act of 1965--the best possible redress of grievances.

 
Selma to Montgomery Mini Timeline:full time line here
January 2, 1965
King launches the Selma campaign with a rally at Brown Chapel.

February 1-5, 1965
King and 500 schoolchildren are arrested in Selma; 650 African Americans march in nearby Marion. Unitarian Universalist ministers Ira Blalock and Gordon Gibson arrive in Selma to work with the SCLC. The Rev. Dr. Dana McLean Greeley, president of the Unitarian Universalist Association, sends a telegram to King in jail, praising him as a "model of discipline and non-violence." Greeley urges Johnson and Congress to guarantee voting rights to all citizens.

"There are more Negroes in jail with me than there are on the voting rolls." (Martin Luther King, writing from the county jail in Selma,
25,000 demonstrators join the marchers when they reach Montgomery for a final rally at the state capitol. That night, Viola Liuzzo is shot and killed by Ku Klux Klansmen as she drives toward Montgomery to pick up a carload of marchers.

 
Statue depicts attack dogs forced on demonstrators
Kelly Ingram Park, Birmingham, Alabama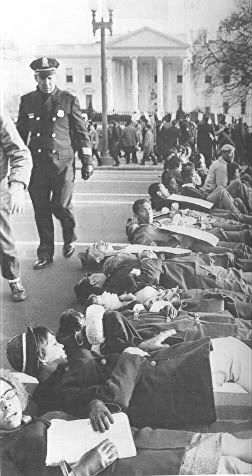 Here protesters block Pennsylvania Avenue in front of the White House.



25,000 Strong!
More Pics Here
177 years passed from the start of that first Constitutional Convention to the passage of the Civil Rights Bill. 300 years have passed since the first slave rebellion. The struggle has seen numerous atrocities, deaths and murders. It has seen set backs, failures, reform and more struggles.  So let me repeat myself, Lyndon Baines Johnson did in fact sign the Civil Rights Act, but he was pushed by the will of the people and the struggle continues.
When you find yourself comparing the fight for health care to the Civil Rights Movement (or any struggle) ask yourself, how much do you care about Universal Health Care? How much work, suffering and inconvenience are you willing to endure? Where are our 25,000 strong?
I am not under any illusions this diary will change the minds of those that are totally convinced the fight is over. People will continue to rant, insult, point fingers and blame. It is their right and hell, reading how it's taken 300 plus years of fighting plus setbacks for rights that I know in my heart people deserve, rights that in 2009 soon to be 2010 we still have to fight for, is enough to make me want to throw up my middle finger and walk away too. However, I really believe it's time we all step back and look in the mirror. There is more than enough blame to be passed around on all levels and many people. We are understandably, angry, frustrated and disillusioned but this is our health we are fighting for. Not the health of the POTUS, the Senate or the House. Many of us have worked our arse off but no matter how many people have dropped the ball, screwed up, or don't care,  history has shown, we are the ones that should be working harder, we are the ones that need to make the sacrifices.We are the ones that must keep fighting for our health and our lives. If we don't care enough to keep pushing the ball forward, if we are not willing to make the sacrifices, if we are not willing to fight tooth and nail for our health, why should anyone else?
Read the original article in the Daily Kos
TrackBack URI for this entry
Comments
(0)
Subscribe to this comment's feed
Write comment